Scents and Sensibility
SCENTS AND SENSIBILITY: INDIE FRAGRANCE FINALISTS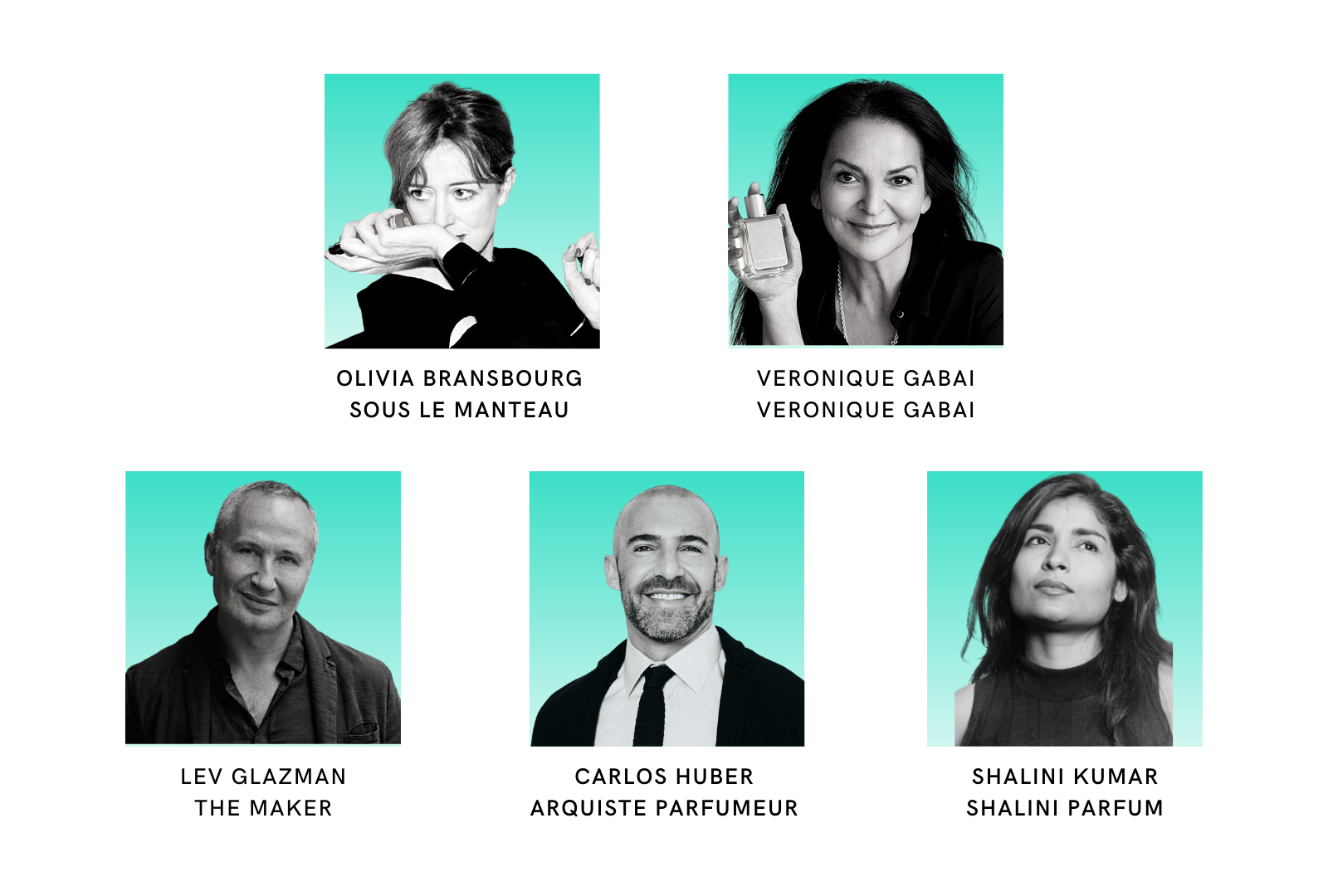 The Finalists for TFF's 2022 Indie Fragrance of the Year all bring something fresh and intriguing to the table. Arquiste's Peau recreates the scent of skin; The Maker's Stag is inspired by the modern nomad; Shalini Parfum's Fleur Japonaise conjures the peacefulness of Sakura season in Japan; Sous le Manteau's Odisiaque No. 6 was inspired by an 18th century aphrodisiac recipe; and Veronique Gabai's Le Point G celebrates female sexuality. Following this month's TFF Awards Finalists luncheon, we asked each brand's founders—Olivia Bransbourg, Veronique Gabai, Lev Glazman, Carlos Huber and Shalini Kumar—to share the inspirations behind these outstanding fragrances with ACCORDS.
Olivia Bransbourg
Sous le Manteau, "Odisiaque n°6"
Nathalie Feisthauer, LabScent – Perfumer
What is the inspiration behind Sous le Manteau?
It was on the rediscovery of apothecary formulas forgotten in a 19th century pharmaceutical book, in particular love potions, that I designed Sous Le Manteau: A house of confidential, intimate perfumes, which could only exist for oneself. Inspired by the bewitching power of these ancient potions, I entrusted the perfumer Nathalie Feisthauer with the mission of extracting from these aphrodisiac charms what makes their essence. A bewitchment, loving and timeless. The result is a collection of unisex fragrances decorated with the Best Newcomer Award 2020 awarded by the Fragrance Foundation UK. Poudre impériale, Fontaine Royale, Cuir d'Orient, Essence du Sérail, Vapeurs Diablotines, and Odisiaque n°6: six intriguing or addictive proposals, designed in Grasse with the finest raw materials, an 18% concentration and 100% organic alcohol. Six expressions of yesterday's love transfigured by the olfactory language of today.
What is the story behind Odisiaque No. 6?
Odisiaque n°6 was designed to evoke the languorous state of a world that is slowly waking up. "I taste the odisiaque hour of your return." Odisiaque n°6 draws its inspiration from an aphrodisiac formula written in the 18th century by Jean-Claude-Adrien Helvetius, great physician to Louis XV and Marie Leczynska and member of the Royal Academy of Sciences. After an aromatic and zesty accord of Bergamot and an extremely rare essence of Cascarilla specially made available for this formula, Odisiaque n°6 reveals all the warmth of a feasting heart of wild and dry grass. A short formula, whose transparency serves to sublimate the addictive, suave and carnal fragrance of the absolutes of Mate, Liatrix, Tobacco and Tonka Bean. A perfume "made to go and listen to the sea," according to the playwright Florient Azoulay, to whom Odisiaque n°6 immediately inspired the breath of an oceanic poetry.
Veronique Gabai
Veronique Gabai, Le Point G
Frank Voelkl, Firmenich – Perfumer
What prompted you to create Veronique Gabai fragrances?
Scent is my passion and has always been my creative expression. After years creating perfumes for remarkable brands, I decided to launch my own, with the desire to bring "sunshine for the senses and the soul". It is all about light and sensuality.
Inspired by the Cote d'Azur where I was born, my brand is there to offer a sensorial escape to the Mediterranean and a connection to Nature through our ethically sourced raw materials and an effort towards sustainability.
Our sillages are luminous, our rendition on skin extremely sensual.
I also wanted people to express their personality through scent, so we made this idea part of the line and the experience. Our perfumes can be layered with our Eau du Jour or Eau de la Nuit, also available in Body lotions, to enhance either the luminosity or the sensuality, and to create a unique signature. We also made sure to offer a personality test based on the correspondence of the senses to help find the perfect one!
And then again, our clients can wear their perfume the way they want, all from re-usable beautiful objects, from our gorgeous refillable bottle, to our on the go travel case or our line of jewelry pieces containing a mini spray. Fun, gorgeous and lasting a very long time….
What was the inspiration behind Le Point G?
I am inspired by women, their generosity, their strength, their subtlety, their stories. I wanted to pay homage to their bodies, their sensuality, their pleasure and do so through the eyes of another woman, with affection, respect and a bit of humor.
So came le Point G (or the G spot) a perfume built like a pulse, a vibration and a crescendo, from the kiss of rose and iris, the caress of musks, the soft bite of leather, the depth of woods and to the pure pleasure of vanilla. A climactic perfume in other words, one everyone would want to look for, and hopefully find!
Frank Voelkl of Firmenich was my partner in creating this perfume, a delicate balance of softness and power, and Jennifer Massaux put it all in images, with tenderness and passion.
Demanding skin chemistry, this perfume is quite unique, probably like our relationship with pleasure and intimacy. You have to try it for yourself!
Lev Glazman
The Maker "Stag Eau de Parfum"
Jerome Epinette, Robertet – Perfumer
What is the story behind The Maker?
Alina and I always sought to bring unique, meaningful — and simply beautiful — experiences to life and this philosophy led us to open the doors to The Maker.
What began as a bespoke hotel redefining the bohemian travel experience in Hudson, NY, has expanded into a multi-faceted lifestyle brand with a fragrance collection inspired by inhibitions melting away— bottling hotel travel fantasies we've lived or long to.
As beauty veterans who transcended to hospitality, returning to fragrance, a huge passion of mine, has allowed me to inspire guests through sensual spaces and now provocative scents.
What inspired Stag?
Stag is inspired by the modern nomad. Somebody who leaves a mark wherever they roam. Cool and charismatic, yet diabolically independent, their touch is fleeting but their impression is everlasting.
I wanted the fragrance to smell like a rich, clean blend of seductive woods, a scent that smells like innate confidence.
Carlos Huber
Arquiste Parfumeur "Peau"
Rodrigo Flores-Roux, Givaudan – Perfumer
What was the inspiration behind Arquiste as a brand?
ARQUISTE has always been about transporting you to another place in time.
My career started in architecture and historic preservation, so when I started learning about perfume under the mentorship of Rodrigo Flores-Roux I was fascinated by the timelessness of scent: you can smell an actual eau de cologne formula created in the 17th century and if you pay attention, it can transport you back to that world: the perfumer's vision, the style and sense of beauty of the era and the raw materials available.
So with that in mind, before I start a development on a fragrance, I research a fragrant setting as one would an architectural or archeological site. I like to travel and identify diverse stories from around the world that connect people and cultures. I then identify and categorize the details behind these sites into foundational, structural and ornamental notes, which in turn are translated into base, heart and top notes.
Working with experienced and inspired perfumers like Rodrigo Flores-Roux, Yann Vasnier and Calice Becker, and using high quality, sustainable and responsibly-sourced materials completes the architectural vision of form, function and material quality.
What was the inspiration for Peau?
Our goal with Peau was to recreate, as vividly as possible, the scent of skin: particularly, the idealized scent of a lover, the memory of their scent. No story felt more evocative than Roman Emperor Hadrian and Antinoös, his lost lover. Hadrian commissioned thousands of sculptures of Antinoös all over the Roman Empire, so that through the idealized representation of his body, his memory would be preserved forever.
Likewise, this fragrance seeks to bottle (and preserve) the idealized scent of the human body. There's surprising botanical ingredients like white pepper that helped us evoke that slightly spicy, salty and soft musk in skin. My favorite thing about it is that it's ever present and familiar, while at the same time being hard to describe. Working on this with Rodrigo Flores-Roux was cathartic, especially during a year of lockdowns like that of 2020. We wanted to express longing, intimacy and closeness. To identify that special scent behind the nape of a lover's neck that tells you you're home.
Shalini Kumar
Shalini Parfum "Fleur Japonaise"
Maurice Roucel, Symrise – Perfumer
What inspired you to create Shalini Parfum?
My journey from Haute Couture to Haute Parfum was destined to happen. I had not envisioned creating a Perfume House. It all started when I met Maurice Roucel, the renowned Master Perfumer. A friend introduced me to him when he had just moved to New York City from Paris.
At the time, I was still creating Haute Couture for my own Fashion House, and Maurice visited my atelier. He immediately connected to the timeless elegance of my designs, and a friendship between us was born. As this friendship flourished, we decided to create together a fragrance that would echo the standards of Haute Couture – a composition of the purest, supreme-quality raw materials, executed with Maurice's extraordinary talent and artistic sensibility.
Our first perfume was my namesake, SHALINI, which we created on a cold, November afternoon in New York. It was an olfactive painting of my soul – inspired by childhood memories of inhaling the nocturnal beauty of tuberoses in my garden. I desired to present SHALINI in a Lalique crystal flacon that would reflect its exquisite beauty. We introduced the perfume to Bergdorf Goodman with great success, and we were asked to launch Shalini Parfum there exclusively.
What inspired Fleur Japonais?
The series of seven perfumes that I created with Maurice Roucel is inspired by the changing moods and passions of the soul. Each of our perfumes reflects a stage in the journey of life. Nirvana is life's final stage, during which the soul comes to the understanding of self, purpose and destiny. A sense of peacefulness prevails in that understanding. It is the transcendent beauty of life that I desired to capture in FLEUR JAPONAIS.
In Japan, the Sakura and the Samurai are deeply connected, due to the fleeting nature of their lives. FLEUR JAPONAIS is the synergy between the softest of flowers, and the strongest of Japanese men. Naturally, the perfume is an ode to the revered Japanese cherry blossoms. The "Sakura season" is a time of renewal, as well as of celebration of life, as the pink flowers embrace the temples of Kyoto. The delicate flowers are part of the Buddhist themes of mindfulness, and of living in the present. Maurice brilliantly added the purest frankincense to the composition, thus radiating serene strength and meditative energy.
I see FLEUR JAPONAIS as a timeless metaphor for human existence; it is soft but also tenacious, sensual in all its spirituality, and absolutely heavenly.
We would like to express our gratitude to the judging panel of the prestigious Fragrance Foundation Awards for recognizing this perfume as one of the five 2022 Finalists in the "Indie Fragrance of the Year" category. We are extremely proud and overjoyed.