What The Nose Knows
WHAT THE NOSE KNOWS: CELEBRATING HISPANIC HERITAGE MONTH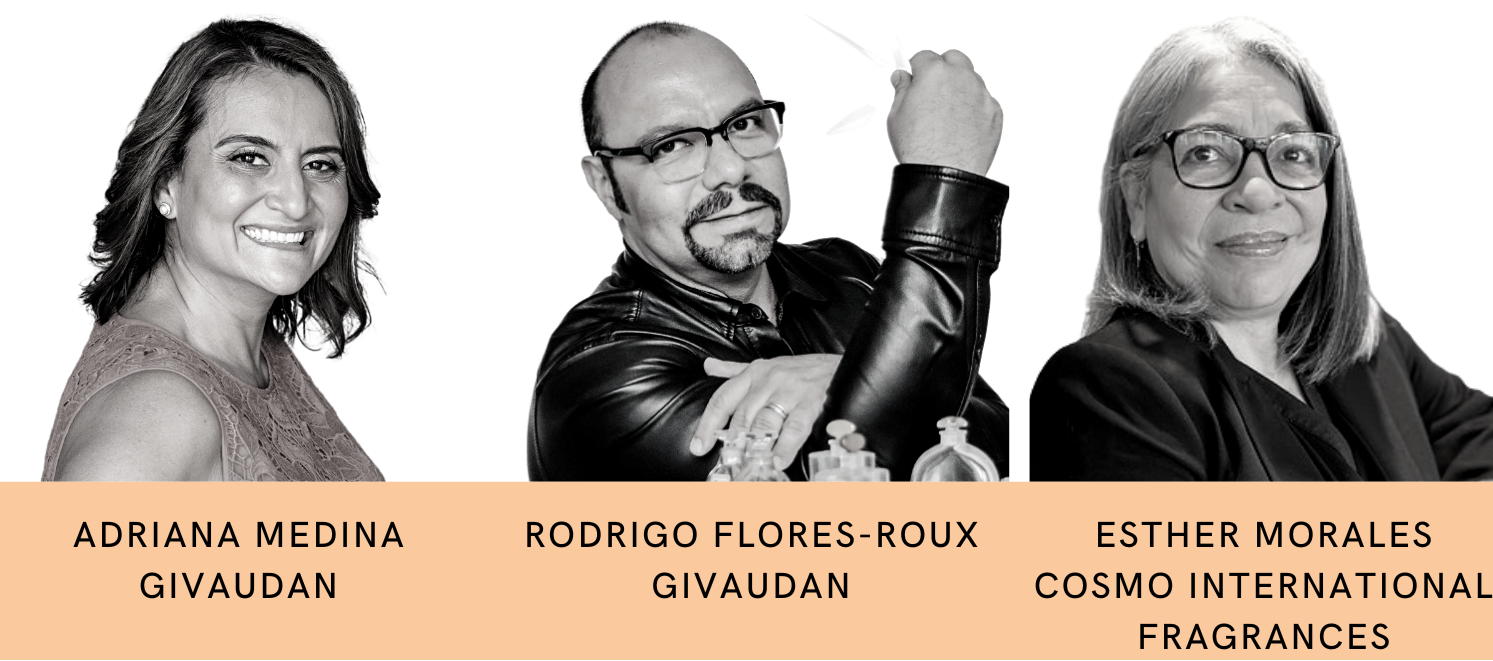 How does your Colombian heritage give you a unique perspective on fragrance?
In the Colombian culture you love to wear fragrance, it's part of who you are–it compliments your style and personality. You have fun with it. We like to experiment with different scents and if we fall in love with one fragrance, it's a fragrance of a lifetime.
What are some of the ways you have channeled your heritage into your perfume creations?
I feel fragrance ingredients are like colors and they evoke experiences and emotions. Culturally we are known for being very positive and optimistic. I want my fragrances to give people joy, take them to a special moment in their lives or to where they have never been before.
What moments from your career are you proudest of so far?
In 28 years of my perfumery career, I have had a few moments of pride and joy. First, being the creator of VS Bombshell–a brand I connected in my younger years and creating their No.1 scent has been incredible. Also the co-creation of Lancôme Idôle and the work I continue doing with L'Oréal with more to come. I feel very honored as a latina perfumer to be given the opportunity to work in their brands, my ideas resonate with them. And I truly feel very valued, appreciated and recognized. Thanks to all the clients that believe in me, what makes you different makes you very unique and let's continue breaking a few more barriers.
How does your Mexican heritage give you a unique perspective on fragrance?
Even if I'm now an "adoptive" New Yorker, having lived in Manhattan for over 26 years, I look back at my Mexican roots and I approach perfume making very "Mexicanly"… (is that a word?). That is, I do it with passion, with respect for history and the past, with optimism and full heartedly. Mexico is a country of contrasts, of culture, of enormous riches, or resilience. Just recently, for the third time, a powerful earthquake hit Mexico City on the same date (formerly, in 1985 and 2017). This is uncanny and the effects of these phenomenons are devastating. Although they are always a source of sadness for everyone, it's also comforting to see how the Mexican people help each other, recover swiftly and rebuild towards the future with an impressive resilience.
What are some of the ways that you have channeled your heritage into your perfume creations?
Mexico is an unfathomable source of inspiration for me. Being the only Mexican perfumer working in the international arena of fine fragrance creation, I wear my Mexican badge proudly and I apply my knowledge of my country very frequently. Be it through my motherland's food, its music, its literature, the arts, the architecture and archeology, its landscapes or its biodiversity (Mexico is the second country in the world with most original botanical species in the world) I infuse every single perfume I make with this deep love. I can mention Diego Rivera, Frida Kahlo, Jose Maria Velasco and Roberto Montenegro as artists I love; Carlos Pellicer and Xavier Villaurrutia as poets that bring me a lot of pleasure; literary authors Octavio Paz and Juan Rulfo; Luis Barragan as a star architect; and my cousin Gabriela Camara as a splendid contemporary chef when it comes to food! Also, I can affirm that Mexico has the best male singers in the world: my week is not complete if I don't listen to Mijares, Jose Jose or Alejandro Ferandez.
What did it mean for you to celebrate Mexican ingredients and inspirations through your collaboration with House of Bō?
When Bernardo Möller and I started working together on the three perfumes for his brand, we focused on the experience of growing up in Mexico and on the references that we had as olfactive "imprints." The "agua de colonia" theme was explored in Agua de Santos. For La Mar, we evoked the sometimes powerful sea breeze (or wind, rather) of the Mexican Pacific Coast, more rocky than sandy.. and for Espirtu, we came up with a never made before woody accord inspired on the precious wood of a Mexican tree called Macuilis. Bernardo grew up in a house in Guadalajara that is surrounded by those trees, and when I mentioned that I was studying its particular woody scent, we knew we had built a connection that is anchored in a deep passion for everything Mexican.
How does your Cuban heritage give you a unique perspective on fragrance?
When you are born and raised on an island, it is inevitable to be inspired by its geography and climate, from the vibrant hues of the Caribbean ocean to the lush verdant nature and even the sun's radiating heat. In many ways, this has inspired and marked my personal style when it comes to fragrances. I enjoy creating airy, sweet, and irreverent fragrances that combine fresh and tropical fruity touches with notes of spices, exotic flowers, and sea salt to evoke memories of early summer afternoons by Havana's Malecon. I also like to indulge in combining rich scents of brown sugar, honey, tobacco, and rum to achieve a sophisticated yet relaxed background effect that evokes bold vintage impressions. It is said that fragrances are a reflection of personal taste, but I believe they can also be a reflection of a country and culture. I can share that, as Cubans, we are drawn to daring, strong, and long-lasting fragrances, just the same as our need for our morning cafecito.
What are some of the ways you have channeled your heritage into your perfume creations?
I have recently enjoyed working on a fragrance creation inspired by the most well-known and delicious Cuban cocktail, the mojito. It was stimulating and rewarding to capture the essence of this Cuban classic! From the intensity of the white rum to the cool freshness of mint, the zesty acidity of the lime, and that final sweet touch of sugarcane… the perfect balance of notes for this Cuban girl! It is also fragrances like this where I love to work with one of my favorite Cosmo Ingredients, the Peruvian Lime MD. It is juicy, fresh, zesty, and sparkling, the perfect raw material to conjure up the scent of a Mojito.
What moments of your career are you proudest of so far?
I don't believe in isolating my career into one proud moment. I believe that when we take pride in our daily work, there is greatness in every project and every fragrance creation.
I would say that one of the most creative but also fulfilling and joyful experiences I've had as a perfumer was being invited to create exclusive fragrances for an immersive live event that was done in partnership with the Miami Symphony Orchestra, located in the historic Moore building in the Miami Design District. Not every day do you get to observe the reaction of hundreds of people enjoying your fragrance while they listen to Wagner and Debussy! Having attended the performance with my family, it was truly a memorable evening that will always have a special place in my heart.
I also believe that one of my greatest achievements is being part of the Cosmo International Fragrances family!