What The Nose Knows
WHAT THE NOSE KNOWS: AAPI PERFUMERS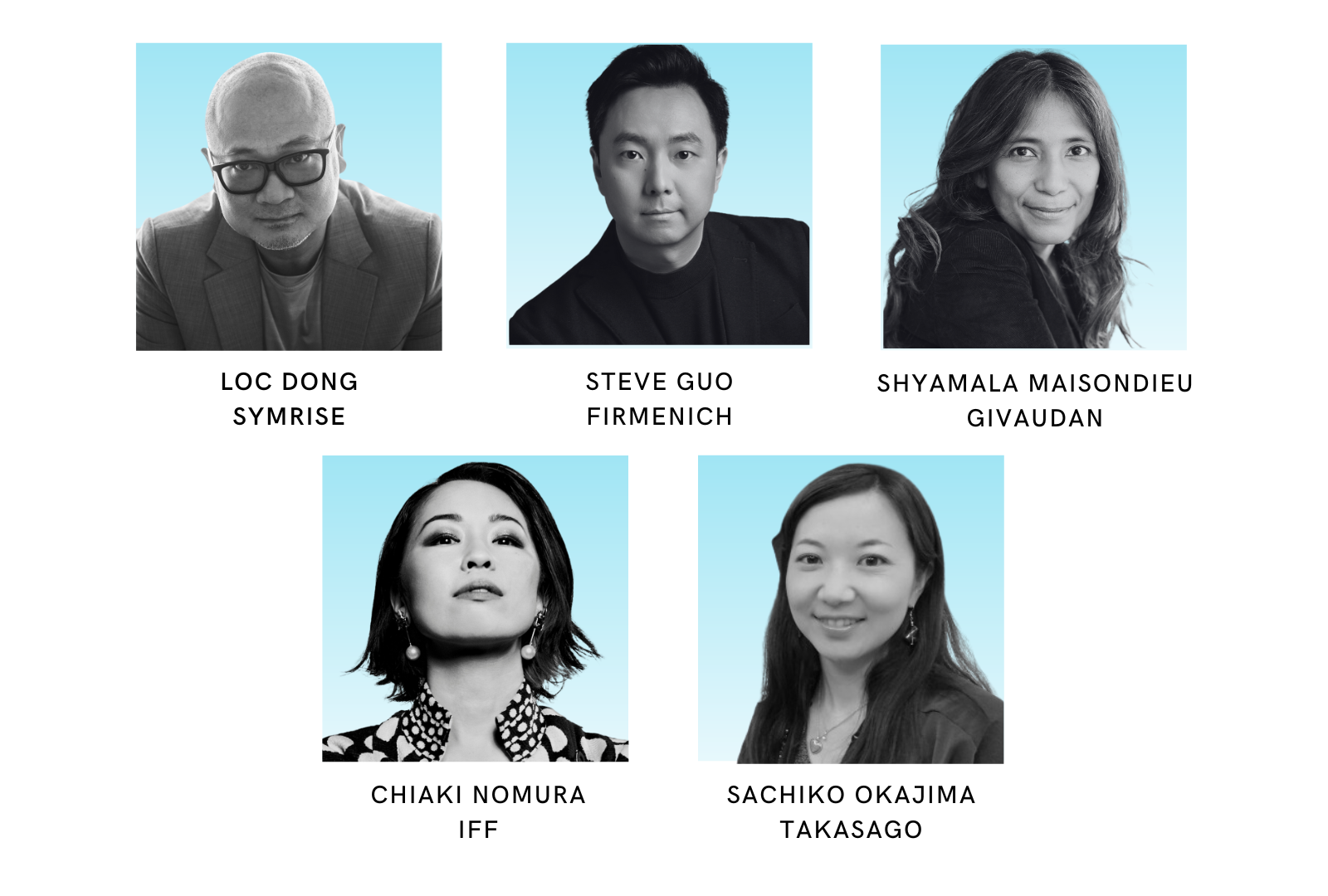 What initially drew you to perfumery?
I always say perfumery found me. It's different in America, compared to other parts of the world, especially in France, where you might have family members in the field and be born into it. When you're there, everyone knows about perfumery, it's a celebrated art form and a very common field to aspire to work in, even at a young age. Here in America it's much less common to have a desire to become a perfumer or to even know about it. It was a great deal of hard work, a bit of luck, and the unpredictable twists and turns of my career that brought perfumery to me.
How did growing up in Saigon affect your sensibility as a perfumer?
Southern Vietnam is famous for its fertile land, lush nature and rice fields. There I was able to learn natural healing ingredients at a very young age by working alongside my grandfather, a healer who taught me how to identify, smell and harvest local healing plants. This experience is always a good reminder of how every one of my creations must connect to the beauty of nature and evoke happiness in the bottle.
What do you think is unique about the Vietnamese experience and appreciation of scent?
I would say this is two-fold. For one, my hands-on knowledge of tropical botanicals and raw materials native to Vietnam have greatly influenced my palette and how I create today. Secondly, I am grateful for my past, my heritage and my journey. I look back on it all with only positive embrace, yet my gaze is always on the future and what's next.
What are some of your sources of inspiration?
If we look around us, inspiration is everywhere. In the people we meet, the things we see, the food we eat, the music we listen to. Each moment offers something unique, and all of these moments add up to something beautiful. I try to bottle that. Even off-duty, when I'm restoring vintage cars I feel inspired. They share a similarity with fine fragrance in their beautiful design and performance.
What initially drew you to perfumery?
When I first discovered Poison de Dior at the age of 18 (also my first time smelling perfume), I became aware of a whole new world – the world of scents. From then on, I gradually realized that olfactory beauty is one of the most interesting and elusive forms of art, and so I decided to devote my life to perfumery.
How did growing up in Beijing affect your sensibility as a perfumer?
Growing up in Beijing or, more broadly, growing up in China, the most important thing for me is that the core of my thinking is based on Eastern philosophy. In my opinion, the emphasized non-dualistic concepts of "unity of human and nature" and of "harmony" align perfectly with the philosophy of fragrance creation. I have been fortunate to receive a Western education while also being able to think and create in an Eastern way.
What are the similarities and differences between the French and the Chinese perfume industries?
The word "culture" in Chinese directly translates to "the evolution of language". In comparison to the mature perfume industry in France, China currently lacks a perfume culture. This means that the Chinese language, or people's expression abilities, are not yet adapted to scents. As a result, both consumers and our direct clients find it difficult to describe their needs and concepts, which in turn affects the efficiency and cultural dissemination abilities of the perfume industry. Changing this situation requires accumulated time, as well as the responsibility of Chinese perfumery professionals, to take action.
What are some of your favorite scents?
I like Ambrox, Patchouli and Rose very much. They all have a well-rounded, quite changeable, and powerful quality to me.
What are some of your sources of inspiration?
My sources of creative inspiration come from photographs, paintings from both the East and West, poetry, Japanese haiku, and of course the great works of other brilliant perfumers.
What initially drew you to perfumery?
Initially, I had no idea that there was an entire industry behind perfumes. I really stumbled upon it by luck and a series of circumstances.
I was interested in mathematics and ended up pursuing chemical engineering, but I also loved anything to do with the arts–anything creative that involved me using my hands.
I first heard about perfumery at a job interview, after university, when speaking with a perfumer. I knew immediately that it was something I would enjoy–it was the perfect combo of science and art
How did growing up in Malaysia affect your sensibility as a perfumer?
Malaysia is just filled with odors. We have flowers which are very fragrant, leaves (like pandan leaves) which we use in cooking just for their smell, all sorts of spices grow in the region, we also grow coffee and tea, and the famous agar oud can be found in the forest there. Because of its warm and humid climate, the smell and its importance is somehow magnified.
What are some sources of inspiration that relate to your heritage?
I love the smell of the frangipani flower, which grows abundantly in Malaysia. Whenever I work on a white floral I draw inspiration from flowers like these. Plus, growing up with spices and tropical fruits at home, I tend to blend these smells into my compositions.
What are some of the perfume creations you are most proud of, and why?
It's difficult to choose which ones really. I am proud of each and every creation for different reasons…Lancôme Idôle because of the team work which was incredible and wonderful, Dolce & Gabbana Light Blue Forever because of the accord using Givaudan's captives which provided something innovative, and so many more!
What initially drew you to perfumery?
I have always had a love for fragrance since my childhood. I used to put my head in a fabric bag to smell my favorite fabric softener when I was a child. I remember that it just made me really happy. As a teenager, I used to go crazy trying perfumes at Duty Free shops overseas on family trips. I did not know back then what made me smell those scents so obsessively, but in retrospect, it was because of the emotions they evoke and how directly they touch our souls. It was like an uncontrollable passion that I could not explain.
How did your pharmacy studies affect your work as a perfumer?
The intense level of chemistry and botany needed for pharmacy studies still continue to impact my perfumery work. I think that the commitment and concentration that you need to know of how the tiniest of details impacts the end product are similar and equally important in both fields.
How do you express your Japanese roots in your perfume creation?
I adore Japanese minimalism, which is reflected in my creations by keeping formulas minimalistic. I want every ingredient to have a reason-to-be in the formula for the fragrance message to be bold and memorable. When I create with this in mind, I always feel clear on my intention. I also appreciate the concept of wabi-sabi, which is about finding beauty in imperfection, simplicity and impermanence. I love deconstructing formulas, overdosing some ingredients, and playing with extreme fragrance structures.
What are some of your favorite materials to work with, and why?
I love working with combinations of woody materials because they have many different textures, depths and feelings. I enjoy the opportunities we have in perfumery to use both naturals and synthetic woody materials to express our creative visions in a wide variety of ways.
What initially drew you to perfumery?
My mother loves gardening and her garden is full of fragrant flowers. As a result, I also love fragrant flowers influenced by her. I was initially attracted to perfumery when I joined the fragrance industry and smelled so many raw materials and essential oils. I had never smelled so many wonderful scents. I was impressed that the scent of every flower consists of many components which are so well-balanced in nature.
How has your Japanese heritage influenced your work as a perfumer?
One of the many parts of my Japanese heritage that influences me as a perfumer is the art of the Japanese tea ceremony. These beautiful tea rituals create a spirit of hospitality, and people can really "feel" the theme of the ceremony in the small space of the tearoom. Each ceremony can be customized, considering individual preferences and needs to create specific emotions. The same is true of my work. I am trying to create a fragrance that evokes special emotions and impressions with positive feelings.
What are some of your sources of inspiration?
I get inspired from the scent of plants, music, arts and food. I especially love Japanese and French cuisine. Japanese cuisine is all about preserving the natural tastes and scents of ingredients. The way it is prepared, the delicate seasoning, and the combination of herbs and condiments are incredibly inspiring. French cuisine brings together a unique combination of ingredients and creates unexpected flavors with such a beautiful appearance.
What is your favorite raw material to work with?
One of my favorite types of raw materials are spicy lactones. Like Jasmin lactone, Wine lactone, and Celery lactone. Each one has spicy facets in the base floral note. Adding a little bit of a spicy note gives my fragrances impact, harmonizes the fresh and floral parts, and connects floral and woody parts smoothly. And it provides the authentic quality of the surface texture and structure of flowers. I'm always interested in learning more about spices from around the world, learning new cultures and understanding how to use regionally important spicy notes in intriguing new ways.