Spotlight
SPOTLIGHT: SCENTS OF SUCCESS: THE CITY COLLEGE OF NEW YORK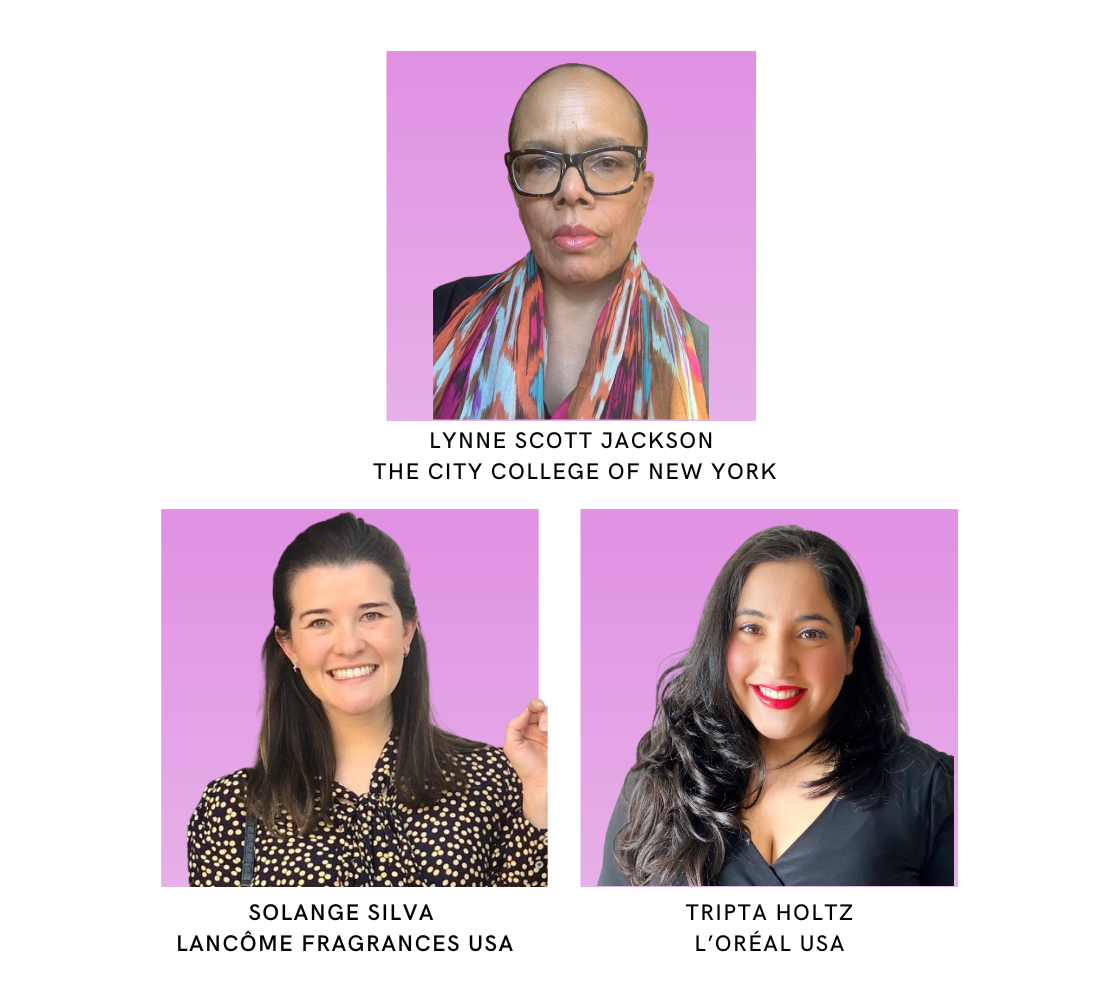 Scents of Success is one of the most important and impactful DEI initiatives for #FragranceForwardTFF, sharing guidance and information about careers in fragrance with students at universities across the country through lively panel discussions and workshops. At the return for its 2nd Scents of Success event in October, TFF and The City College of New York welcomed an accomplished duo of L'Oréal Groupe team members (both of whom are also TFF Notables) to talk about their experiences, challenges, and accomplishments with students. Led by Professor Lynne Scott Jackson, Distinguished Lecturer – Ad/PR Program Director of Internships, Industry Relations & Professional Development Media & Communication Arts Program, CCNY, the inspirational duo – Solange Silva, Director of Marketing Lancôme Fragrances and Tripta Holtz, Senior Fragrance Evaluator L'Oréal—gave an in-depth look at L'Oréal's brands and career opportunities, while also sharing their personal stories.
For this month's Accords, the participants reflect on what made the event especially meaningful.
What do you think was most valuable about the Scents of Success workshop/ Initiative?
TFF Scents of Success helps students understand how they can be part of the vast fragrance industry. It's as simple as a class visit, with TFF Members sharing insider experiences that give students "a day in the life of" knowledge about how their skills and interests might apply to the fragrance industry.
Guest speakers provide an important window for CCNY students, helping them Access Excellence, aligned with the CCNY mission. Our students are eager to ask questions and learn about the fragrance industry and how execs have transitioned through different roles that led them to a career in the fragrance industry. The Ad/PR Program applauds TFF & TFF members who are willing to give their time, talent and attention to our students. Once they are turned on to what they can do in the fragrance industry, they're hooked! We can always count on TFF – Scents of Success to value the essence of our students' education as they transition to the work world.
This exemplifies the aura of a meaningful partnership, rooted in a willingness to help students build successful careers. We respect and value TFF's commitment.
In what ways do you think it piqued the interest and inspired CCNY students?
From observing and contributing, students refine skills learned in the classroom and begin to understand how they might fit in the fragrance industry. Nothing can replace 1×1 interactions with Manhattan-NYC, national and fragrance industry executives—opening our students' minds and hearts to not only what is possible—but what they CAN achieve with persistence, perseverance and resilience.
The opportunity to informally chat with execs from leading L'Oréal brands and other TFF members is transformative. Often, students believe their experience won't translate to what iconic companies need in their day-to-day operations. While our students are savvy, contemporary New Yorkers or international students, they're still 20-something college students who are at the start of their careers. This includes the need for a real world, crash course introduction to the hyper-competitive, "heady" world of marketing, fragrance development and multinational businesses in the USA's largest city.
Scents of Success provides exposure to careers in the fragrance industry and beyond realizing there are a wide range of careers in the fragrance industry that might utilize their skills
What were the students most keen to learn about?

The individual journeys and career growth of executives 5 – 10 – 15 years out of college as well as understanding that it is doable as evidenced by CCNY Alum Erika Cruz-Vasquez's class of 2023 ascent as an Events Coordinator, LVMH Fragrance Brands.
What did you most enjoy about participating in Scents of Success?
I loved seeing their excitement in discovering that working in the fragrance industry is a possibility for them and their eagerness to learn more about it.
What do you think inspired the students most about your career path?
I hope they were able to see that there is a place for diversity in this industry with me being a foreign woman, with an accent, from a Latin American country. I also believe they could relate to the fact that I was exposed to the possibility of working in the fragrance industry around their age and like many of them I was also working full time while attending college.
What were some of your own takeaways from the CCNY event?
I came back from the CCNY event so refreshed, it was a wonderful reminder of how exceptional our industry is and a personal reminder of how special it is to be part of it.
What did you most enjoy about participating in Scents of Success?
Solange and I got the unique opportunity to speak with a room full of CCNY students at the Scents of Success event series. We shared with them our identity maps and career paths and talked about the key stakeholders in product development at L'Oreal. We also shared advice on how they could put their best foot forward while applying for such roles and what to expect when they get in. I really enjoyed the Q&A that followed and was fueled by their engagement and active participation. We could have easily made a day of it! Having never had such an opportunity as a student myself, it was most important and rewarding for me to step into that role for the next generation of professionals.
What details about your life and career experiences do you think most resonated with students?
As with most people in our industry, my career path has been quite unique. While our individual journeys are unique, the lessons we learn tend to be the same. I actively sought out this industry when I was in high school. However, I didn't know anyone in it. Getting my foot in the door was the biggest challenge for me, but I didn't give up. I have also had my fair share of rejection through the years and have had to advocate for myself at every stage of my life and career. Fighting for what I truly believe in and not giving up are some virtues that truly make me, me. I believe that similar life lessons also resonated with the students we met at CCNY. They all seemed driven by determination and passion, and I believe those are necessary traits to thrive in our industry.
What were some of your own takeaways from the CCNY event?
It was most inspiring to meet the CCNY students who are interested in a career in beauty and fragrance. Our industry is lucky to have so much diverse talent to choose from. The next generation is brimming with potential! I wish the best to every one of them. I am so excited to see them in the industry and to work alongside such brilliant and curious minds in the years to come.