Spotlight
SPOTLIGHT: SUSTAINABILITY & FRAGRANCE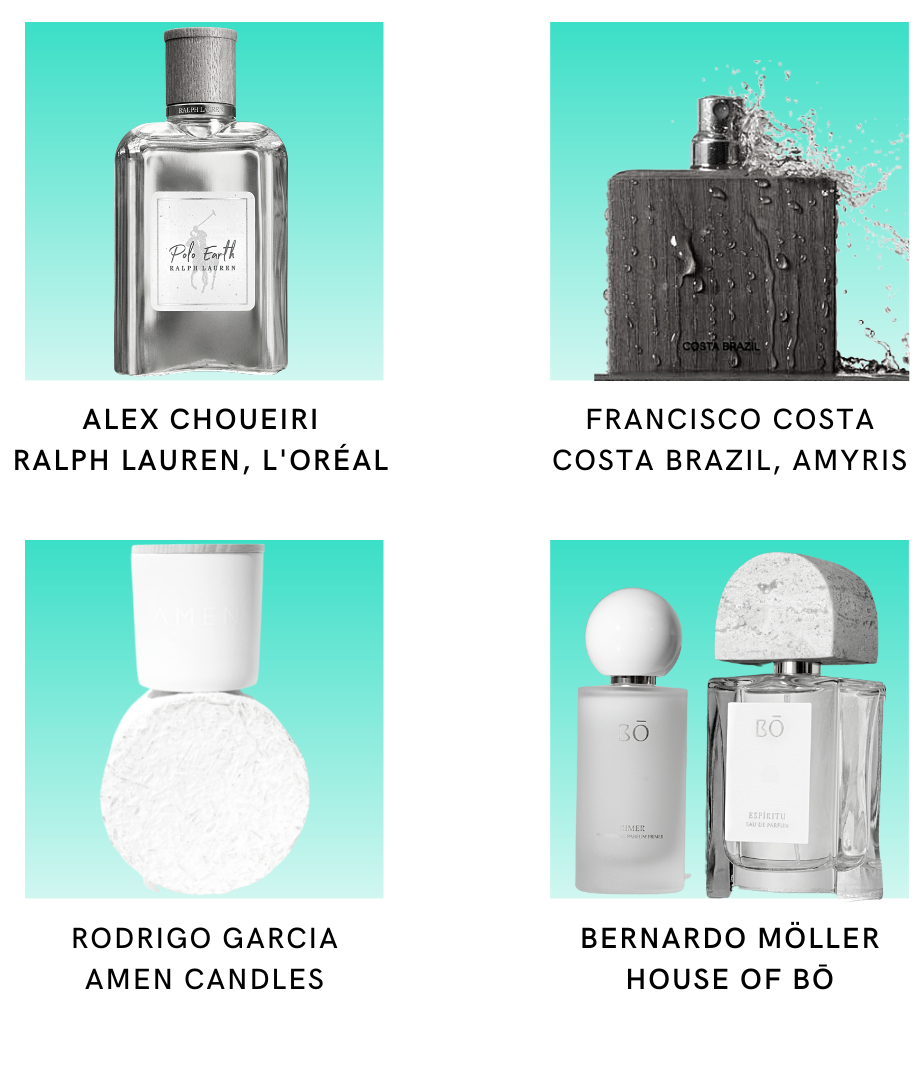 Sustainability can have different meanings for different brands, but all can agree one thing: its importance. From recyclable packaging components to the way that ingredients are sourced and processed, the fragrance industry is stepping up to ensure that the impact it makes on the planet is minimal and responsible. Consumers, too, are driving this change, with increasing expectations regarding brands' transparency regarding environmentally friendly practices. For Earth Month, ACCORDS tapped four brands with strong sustainability messages—Ralph Lauren Polo Earth, Costa Brazil, Amen Candles & House of Bō—to talk about what they are doing to protect the planet, and what we can look forward to in the future from the fragrance industry as a whole.
Alex Choueiri, Ralph Lauren, L'Oréal
Why is sustainability so important for fragrance brands right now?
Sustainability has become an essential part of what all industries need to focus on. Our communities, our employees and our customers are expecting that from us. For the fragrance industry to continue to thrive, we have to revisit everything we do and try to improve.
What are some of the sustainable measures that your brand has taken?
With the launch of Polo Earth we tried to do a deep dive on every aspect of our marketing mix and tried to push the boundaries to make our product as consciously designed as we can. We learned in that process and started implementing some of the learning (refillability, lighter glass weight, sustainably sourced verified ingredients, post consumer recycled carton and glass) to other products in our range.
What do you hope to see regarding the future of sustainability and fragrance?
We hope we will continue the journey. We dream of seeing plastic free pumps. Our wooden cap will no longer have a plastic insert from next year. We are also working with all fragrance houses to increase the number of certified sustainable ingredients and fair trade certifications. Much more needs doing but it is an exciting journey.
Francisco Costa, Costa Brazil, Amyris
Why is sustainability so important for fragrance brands right now?
Sustainability needs to be important for all brands right now. For me, and Costa Brazil, it marks the beginning of our story. When I first went into the Amazon and learned more about the benefits of Brazilian ingredients, and self-care rituals from the Yawanawas, I directly sourced everything from them. It was as clear and simple as I'd hoped it could be. Of course, as we grew, the challenge became how to scale and continue to be sustainable. Fortunately, that's when I met Amyris, leaders in biotechnology and now our parent company. They have helped us choose an even more sustainable path, from packaging to procurement to providing products like Aroma with proprietary ingredients such as Clean Ethanol, which is a non-toxic alternative to other ethanol alcohols because it's derived from Bonsucro-certified sugarcane, not petrol, it's non-GMO and, to top it off, it's upcycled. It's better for the environment, and you, without sacrificing efficacy. Today, we're more sustainable than I could have ever imagined.
What are some of the sustainable measures that your brand has taken?
Sustainability is part of the everyday for us. We are always talking about ways to improve, across all tentpoles: animal, environmental and human welfare. We are sustainably sourced, environmentally responsible, cruelty free, and we truly care about our partners on the ground in the Amazon. That said, every time I go back into the rainforest, and witness just how hard and long a sourcing trip for a single ingredient like Breu is, I realize how unsustainable it is for those communities.
Currently, we're in the process of formalizing an agreement that supports these communities through commitments to buy directly from them, and at a fair price, an acknowledgment of their hard work and culture, while also developing sustainable alternative ingredients in the Amyris lab. This way, we can harvest at the amount that will help the forest and its people thrive, but also allow us to scale and push the conversation around clean science.
What do you hope to see regarding the future of sustainability and fragrance?
Safer ingredients. More transparency. Cleaner science. Ongoing respect for nature. There is so much potential when it comes to fragrance. In the office, we have been speaking a lot about the direct line scent has into our immune systems. I want to change the purpose of fragrance. They shouldn't mask who you are or be worn for others; they should be worn for you, to make you feel better, and help you smell like the best version of yourself. And they should be free of toxins and full of benefits like phytoncides, which are chemicals emitted from trees that have a proven physiological effect on our parasympathetic nervous systems. Aroma evokes such chemicals. How incredible is that? The future of clean beauty and particularly fragrance is incredibly bright.
Rodrigo Garcia, AMEN Candles
Why is sustainability so important for fragrance brands right now?
The oceans are speaking, the earth and climate are calling us to immediate action. Sustainability is not enough and it's time for Regeneration. Fragrance brands have been using plastics and contributing to plastic contamination to the ocean for decades and this has to stop. We know it is hard, we don't claim to be perfect, and we don't expect to fix issues overnight, but what is important is to start incorporating this in all new products and make incremental changes. The philosophy should be "As Sustainable As Possible As Soon As Possible".
What are some of the sustainable measures that your brand has taken?
AMEN started because I was having headaches from paraffin candles, and after searching for many years I partnered with an artisanal candle maker in Grasse to create paraffin-free sustainable candles using vegetal wax. It resulted in a unique combination of sustainability principles with French savoir-faire and high-end design. So since inception we started free of oil-derivative paraffin, and then while defining packaging we refused to use packaging that takes 500 years to decompose for a candle that only burns for 50 hours, and decided to 'grow' mushrooms carbon negative packaging for our candles.
AMEN is not about measures that we took to be sustainable, but about our way of thinking to be sustainable from the beginning, is in our DNA, and this is actually how sustainability is taught at universities, is not one measure, but a way of thinking and considering the sustainability aspect of every decision.
What do you hope to see regarding the future of sustainability and fragrance?
There will be two main changes: in the short term a plastic ban on packaging and in the long term a shift to more natural, conscious ingredients.
Soon, it will become unthinkable for a brand to use single-use plastic. Our mushrooms carbon negative packaging is our manifesto. It costs 10 times more than a plastic styrofoam, and as a young brand it was a tough decision to reduce our margins, but we believe that we have to lead by example and support new biodegradable alternatives whenever possible so other brands and designers see that it is possible. Clients support this initiative, and department stores are incredibly supportive, with dedicated areas like Conscious Curation at Bergdorf Goodman and Neiman Marcus. The more brands use biodegradable alternatives, the prices will become more affordable. That is the only way to live in a world without plastics. Recycling is good for the mind to feel less guilty, but it is not good for our oceans.
I am optimistic that we can change this in the right direction. We are in a moment of awakening and shifting towards a more natural, conscious and regenerative period at all levels.
Bernardo Möller, House of Bō
Why is sustainability so important for fragrance brands right now?
As we move into the future, and society has more access to information, we have become more aware of the issues that affect our planet. I think people are realizing that Earth is rare and precious and we must protect it. Sustainability has not only become a growing trend in fragrance production but in everything we do and consume. Thus, it is important to lead by example by choosing materials and manufacturers that are aligned with this message of sustainability to create an environment where conscious purchases become a priority for consumers. We call it Conscious Luxury, the responsible production of quality goods.
What are some of the sustainable measures that your brand has taken?
Our packaging is made from FSC certified paper, our caps are made from reclaimed travertine marble stone, and our glass bottles are manufactured from recyclable glass in a facility that uses sustainable energy. We are also currently developing a refilling program. We believe all these measures contribute to our goal of creating quality goods that minimizes our impact on the environment.
What do you hope to see regarding the future of sustainability and fragrance?
We hope there continues to be a growing commitment within the fragrance industry to use sustainable and responsibly sourced and manufactured ingredients. Ultimately I believe people will become more aware we are a product of this Earth, which is a system of ecosystems that are all connected. It's in our best interest to make sure we focus more on cohabiting instead of inhabiting irresponsibly. To achieve this change we must educate and guide the consumer in the right direction by creating trends which ultimately lead to a greater impact. We have a duty to protect our environment which is ultimately the source of inspiration for everything we do.